Farm's own alpine hut - the Aualm
Mountain hut in a scenic location in the heart of the Grossarl Valley hiking region
Combine a scenic hike or mountain tour with a visit to our own alpine hut. As common for farms here in the Grossarl Valley, an alpine pasture area with an alpine hut open for refreshment belongs to our organic farm. The Aualm is situated at an altitude of 1,795 m below the Schuhflicker and was lovingly newly-constructed using local wood. The view of the Grossarl Valley and the surrounding range of mountains amazes our guests time and again. Enjoy our home-made delicacies on the sun terrace or in the aromatic mountain pine snug, whilst your children romp around and play in the adventure playground to their hearts' content. Come up to the Aualm and spend a great day amid alpine pasture with us.
Accessibility & starting-point
You can drive right up to the Aualm. Enthusiastic walkers can hike up from the alpine hut to the Schuhflicker, to the Paarsee lakes, up to the Schiedalm, the Schernbergalm and the Höllwand. The hike from the top station of the Panorama Cable Car via the Kreuzkogel, the Arltörl and the Schuhflicker to our alpine hut is also very popular.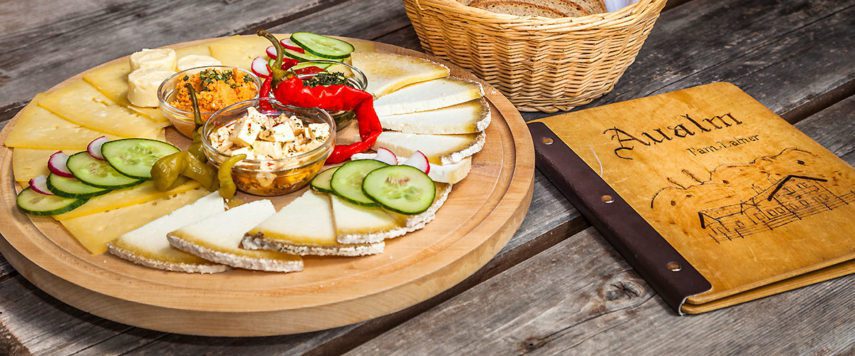 From the beginning of June until the end of September, cattle, horses and pigs relax up on our alpine pasture and graze to the full in our lush meadows. The cows provide us with precious milk, from which we lovingly produce alpine butter, hard cheese, sour cheese, cream cheese and various quark spreads. Let our two dairywomen spoil you with a hearty and tasty snack. How about a home-made schnaps to finish off with. You can also purchase our home-made produce, such as farmer's bread, alpine butter, cheese, quark, jam and schnaps - either for yourself or for your loved-ones back home.
Activities for guests at the Aualm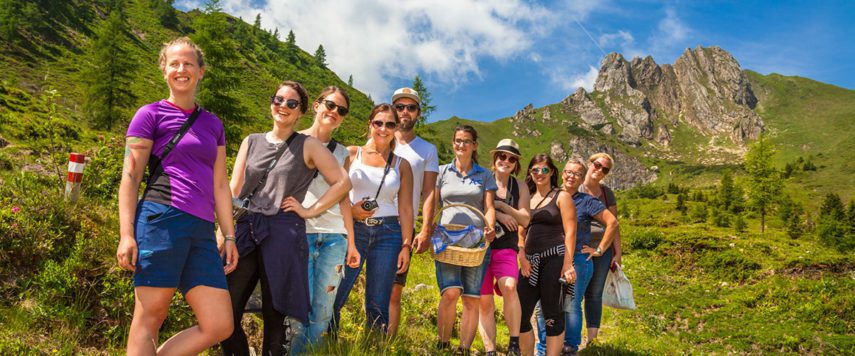 Once a week we head up together to our Aualm. There we spend a particulary exciting alpine pasture adventure day. Along a short walk, animals and plants, which live and grow at this altitude or observed in detail. Walk with open eyes over our blooming alpine meadows and you'll see rare types of orchids and gentians, which are under wildlife protection. Back at the alpine hut everyone can try their hand at making a piece of butter themselves. Afterwards we satisfy our hunger with a hearty snack. Ask us as many questions as you like. We'll do our best to answer, e,g, "How does a cow eat and how much grass does it need to produce a litre of milk?". "Do pigs also give milk?". "How do I behave correctly around horses?". "What do chamois, marmots and eagles do in the winter?"